in 3 easy steps.

1 - download and install Adblock Plus.
2 - add a few filters.*
3 - enjoy a less annoying twitter.

*the filters -
open your preferences (ctrl+shift+f), and hit "add filter" at the bottom of the dialog window that pops up.
add the following filters (you'll need to hit "add filter" for each one.) ::

twitter.com##span.dashboard-component-title
twitter.com##UL.recommended-followers.user-rec-component
twitter.com##span.dashboard-component-subtitle

and not totally necessary, but it takes out the horizontal rules that would then be extraneous ::
twitter.com##hr.component-spacer

yes, the double # is necessary, just fyi.

you're welcome, people.

ciao!
~yobo

p.s., switching to new twitter fixed my annoying emoticon trouble. hence i had to find a way to make new twitter less buggarific.
Powered by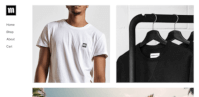 Create your own unique website with customizable templates.